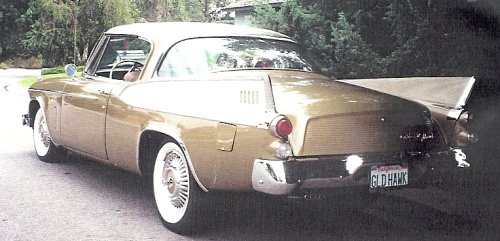 With the 1957 Golden hawk, Studebaker Motors produced what has been called one of the greatest production cars of all tome. Designed by the famous Raymond Lowey, this car was not only ahead of its time in looks and style, but technologically it was a winner -- a good performer by any standards.
This particular car, (California Plate "GLD HAWK"), was purchased on Sacramento in 1995 from the second owner who had it for 20 years, (production # 495 out of 4,000 total). Even though the engine and transmission were tired and the supercharger didn't work. $15,000 was paid for the car because it has always been a California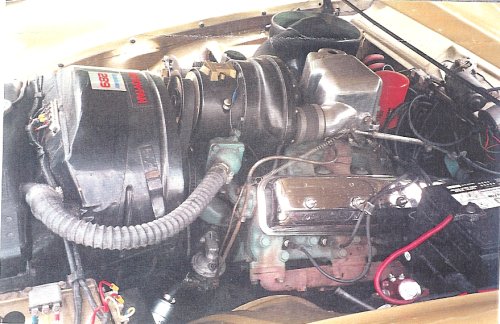 car and the body was perfect, (no accidents and no rust), and the interior was totally original. Today the car has less than 2,500 miles on the drivetrain, brakes, and tires.
n additional $10,000 was invested in 1996 and 1997, for the following:
A perfect paint job computer matched to the exact original dark gold
An exact upholstery match to the original tan pebble grained naugahyde
A rebuild of the original McCullough supercharger
A total rebuild of the 289 V-8, including new bearings, crank shaft, pistons, rings, valves and valve sprints, push rods, cam shaft, carb and fuel lines, etc.
A 4-speed synchro (GM) floor mounted stick shift to enhance performance
New wide whitewall steel belted radial tires
New brakes, brake cylinders and brake lines
New shocks
A 7 speaker amplified stereo and cassette, (original radio works and like all replaced parts is available)
Tinted glass and rear window mounted third brake light, (for safety)
Custom made and installed seat belts.